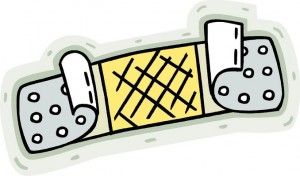 Although I've been a medical professional for many years, I'm not talking about medical emergencies here.  Let's put all of those into the hands of the skilled and fine emergency room physicians.
However, I do want to talk about what you can do to put a band-aid on your business in case of a solo entrepreneur emergency.
If you're brand new to the internet, you'll want to keep a big box of these band-aids on hand.
You'll need a smaller supply if you're a seasoned solo professional and you experience only an occasional cut or scrape.
Whether you've been a solo pro for years or you're just getting your internet biz off the ground …
You need affiliate marketing band-aids!
You've been a "promotion and recommendation" expert since kindergarten.
When you got a new toy for your birthday, you shared it and showed it off to your friends.  And when you put on a spiffy new pair of Keds sneakers, you instantly became a walking advertisement – literally and figuratively!
In this series, I'll be talking about how you can rely on affiliate marketing to create streams of income or heal a drop in sales.
To begin this journey with me, grab a FREE copy of Affiliate Classroom Magazine and read the comparison of different affiliate marketing business models.  No, I am not an affiliate for this magazine.
Choose a business model that fits your goals and your personality.
See you for Part 2!
{mysig}