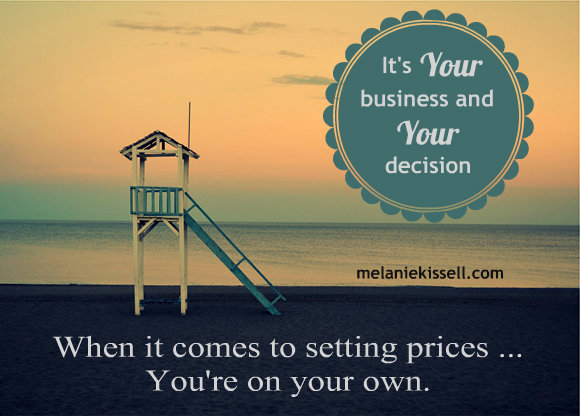 My brain is dizzy from reading a gazillion articles on best practices for pricing your products or services and whether or not it's a good idea to post what you charge on your website.
Is your head spinning, too?
I don't sell any products so I usually rifle through those article segments — although bits and pieces can also be applied to pricing services.
One of the reasons I procrastinated forever and a day (and then some!) before publishing an offering on my site is because I agonized over what to charge for my copy editing services.
I was afraid to charge too little and afraid to charge too much.
And in case you're wondering …
No, I didn't choose to research my competitors to help me through the decision making process though that was what many of my colleagues suggested. I'm guessing some copy editors charge half my rate and some charge twice as much.
Since I work my own kind of magic, I chose not to be concerned with the value someone else places on their talents and skills.
Thing is, I look at myself as having zero competitors.
I don't mean to come off as smug but there's only one of me on this planet and I don't share my brain with another human being. No one else can bring what I bring to the proverbial table — a lifetime of experience, quirky creativity, a unique tone, speed in delivery, workaholic ethics, and final drafts that make my clients smile and earn me referrals.
Some have even called me a "magical unicorn badass". If you hire me, I'll let you be the judge.
So I decided to price my services accordingly — I offer retail and free.
For curious minds, here's the breakdown:
My blog content: Free
Suggested tools and resources: Free
Writing and grammar tips: Free
Connecting and networking on social media: Free
Email, phone, and Skype communications (a.k.a. listening ear): Free
Interviews, guest posts (and occasional poetry): Free
Proofreading and editing: Retail (Flat hourly rate – no tricks up my sleeve)
A slice of client attraction advice:
Don't hesitate to let the [price tag] cat out of the bag.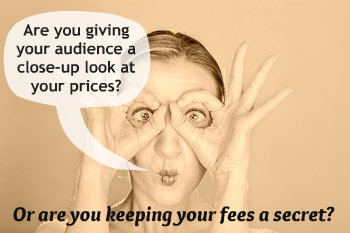 Despite strong opinions to the contrary, I think it's wise to fill your website visitors in on what you charge. Otherwise, I'm apt to think you have something to hide. Or maybe you're a bashful introvert or you lack confidence in the value you add to your clients' lives.
Whatever the case, please don't leave prospective clients guessing.
Tell them what you're worth and why. Show them you're the person they should hire and persuade them to click the "Book Me" button. If you're currently uncomfortable with your prices or they bring on an icky feeling, change them. It's your business and livelihood at stake.
Service providers, what's your biggest pricing nemesis? Do you have your fees posted on your website? If not, why?
Next stop:
Sprint over to Mission: Storytelling to catch this month's Word Carnival posts from my fellow carnies. We're small business owners on a mission to help you tell your story and rock your message and marketing!