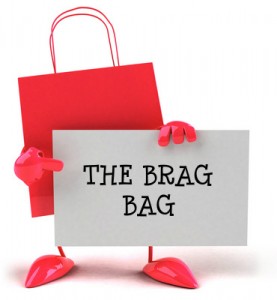 Did you know your target audience EXPECTS you to brag?
It's true!
No one wants to work with a loser, right?
Bragging the right way will help you build relationships while you increase sales and revenue.
Everybody likes to hire professionals or purchase products or services they can brag about.
Your potential customers and clients want to hear about …
Obstacles you've overcome

Success stories of clients you've worked with

Awards you've won

Contests and challenges you've entered or sponsored

Your sales volume for the month

Those glowing testimonials from happy customers

Successful collaborations with colleagues

Charities and causes you support and believe in

Products or services you offer that help change people's lives

Business-building tools and software you love

Coaches and mentors who have helped you succeed

The blog post that earned you 100's of comments

Your proudest moment as an entrepreneur

Times you've been in the spotlight

Your secret sauce for success
So don't believe it when someone tells you "bragging" is bad.  
It's just the opposite — it's good for business — and it's essential to your success.
So …
If you could choose just ONE thing to "brag" about today, what would it be?
Post it in the comment box and let's see how fast we can fill "The Brag Bag"!