Listen to this post if you like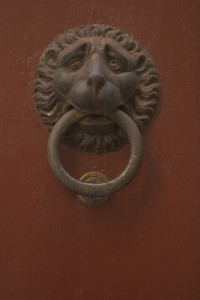 Two days ago, on June 15th, we reached the halfway mark in the 30-day blogging challenge.
I would describe this event as fruitful and exhilarating!  Kudos to everyone who's stayed committed and made it this far.
There's been non-stop socializing and networking, the likes of which I have never experienced in all the years I've been online.
But there's one big problem with the blogging challenge …
It's BIG!!
With well over 200 participants, it's not realistic to think that anyone could master the feat of reading and posting comments at all the member's blogs.  Let's just be honest and deem that "impossible".
So here's my question today for the members of the challenge …
Have I knocked on your door yet?
There are 13 days remaining until the challenge comes to a close.  If we haven't met yet, please put a note in the comment box and introduce yourself.  Before the weekend is over, I will read at least one of your posts and leave you a comment.
Knock! Knock!
{mysig}