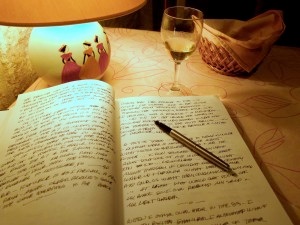 Always fun to share some great news.
I was recently interviewed on Heather Bestel's blog, "Mum's Got A Business".  Some of my loyal readers have already stopped by and posted comments.  So, thank you!
If you're interested in adding a genuinely good soul and one smart cookie of a marketer to your center of influence, look Heather up.
The quote I posted in my interview as one of my favorites was a big hit.
This one seemed to touch a sensitive and meaningful chord.
So grab a pen and write this down …

"Now that it's all over, what did you really do yesterday that's worth mentioning?" ~Coleman Cox
Did you do something to take care good care of yourself?  Did you add value to the lives of others?  Did you do anything yesterday you would deem "noteworthy"?
I'm going to ask you to post this quote somewhere you'll be able to set your eyes on it every day.
And every "tomorrow", look back on the day before and answer Coleman Cox's question.
Although you won't see me plastering my social media profiles with tons of quotes (or even use them very much in blog posts), I'm the quintessential quote junkie.  When Heather asked me to pick a favorite one, I had to think about it long and hard.
I'm famous for saying, "All the yesterdays are cancelled checks". Feel free to quote me. In other words, we can't go back and live them again, right?
BUT …
"Reflection" is a magnificent tool.
Looking back on your yesterdays will help you build and enrich your tomorrows — and maybe even help you appreciate your loved ones more, revel in a warm breeze across your face, take more time to pet your dog (who won't be around forever), linger in the bath a little longer, and slow down the pace of this crazy thing we call life.
So, tell me …
Now that's it's all over, what did you really do yesterday that's worth mentioning?