Would you like to listen instead?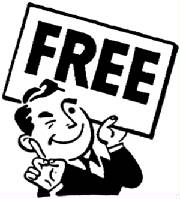 Lots of service professionals and other online marketers have a very negative connotation of "Free".
They consider it one of those "less-than-savory" four-letter words.  Free does not mean frivolous, cheap, or useless.
Smart and savvy independent business owners not only OFFER free information to their target audience, they also SUBSCRIBE to the very best free resources their competitors, clients, vendors, and colleagues have to offer.
Why?
It's an ideal opportunity to learn something new, gather business-building tips, get invited to valuable teleseminars or webinars, and get PLENTY of ideas for blog posts, podcasts, articles, ezine content, and product creation.
If you're trying hard to market your business on a shoestring budget (mine's as thin as dental floss!), then make today the day you become a big fan of "Free".
Free is not a bad word.  Shift your thinking and start putting it in a positive light – in smart ways that can catapult your business.
Have you met the Shoestring Marketer yet? If you use Twitter, be sure to follow her there @ShoestringGal.
No one else I know has a bigger or better grip on the true meaning and the business-building value of "Free".
{mysig}