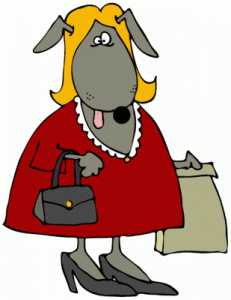 I have to laugh when someone asks me, "What does an online marketer put on to dress for success?"
And my reply is, "Uh … Pajamas?  Jeans?  Gee, I don't really know what other people wear while they're sitting in front of their computers.  I usually wear whatever's clean and comfortable."
You obviously don't need an extensive (or expensive) wardrobe when you work from home.
Of course, you'll need to change out of your pajamas if you're attending a networking meet-up or live event.  I'm pretty sure they won't let you through the door in sleepwear – so I've heard.
You can feel free to be a casually-dressed online marketer, but how about your brand?
Are you dressing your brand for success?  Or is it in need of a makeover or maybe some enhancing?
Branding is all about signaling a power-packed and consistent message to your target audience.
A very strong personal brand dresses for success by wearing a combination of reputation, trust, attention, and action – and what's really cool is you don't have to be concerned with colors, seasons, skin tone, or choice of fabric!
Dress you brand for success with:
Reputation
Practice what you preach and walk your talk.

No one wants to work with a stressed out massage therapist, a freelance writer who can't meet deadlines, or a dog trainer who's never owned a dog.

Set boundaries around your time and stick to them.

Your brand's reputation is built through the total experience it offers – from your communications and logo to customer service and the quality of your products or services.
Trust
Focus on building the relationship FIRST and the business will follow.

Everything you do and say, everything you send your prospects, customers, or clients, and how you interact with them can foster trust.

Your target audience must get to know you and like you BEFORE they will begin to trust you.
Attention
Add value when people least expect it.

Under-promise and over-deliver.

WOW your clients and customers with "extras" like special hand-written notes, gift certificates, movie tickets, surprise lunch, great new business book, articles, jokes, or a donation made in their name to their favorite charity.

Reward people for sending business your way.

Send greeting cards or postcards to your clients and customers to celebrate special occasions.
Action
Craft a monthly newsletter.

Create information products and/or write a book.

Publish blog posts that include helpful tips and tricks based on your area of expertise and post comments on other industry-related blogs.

Attend workshops and seminars in your industry.

Join a mastermind group.

Use your outgoing voice mail and email signature as branding opportunities.

Be ready, at a moment's notice, to present your signature speech.

Offer to write a column for your local newspaper or an association's newsletter.

Write testimonials and/or book reviews for high-traffic websites.
How are you dressing YOUR brand for success?