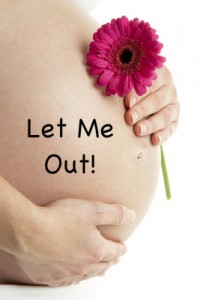 Have you been growing pregnant ideas you haven't delivered yet?
Ones that are way beyond their due dates?
If you don't deliver them soon …
It's going to be really hard to get them out.
Just ask any mom who's carried a baby past her due date!  It's a cumbersome, back-aching, can't-get-comfortable-to-sleep-at-night experience. 
Not to mention babies lay down a half a pound of body fat per week at the end of a pregnancy.  Yikes!
The problem with entrepreneurs is that we're so darn creative, we've got a never-ending wellspring of ideas in our heads (and on paper) all the time.  And some of us even have EverNote and Google docs stuffed to the gills with them!
Even though being hardwired to inspiration sounds like a wonderful advantage (and it is), there are downsides to being an inspired, creative entrepreneur.
Ask yourself these two questions if you have pregnant ideas you haven't delivered yet …
Do your big ideas eventually become boring to you?
Do you find yourself caught in the "All or nothing trap"?
The typical entrepreneur has a tough time seeing an idea through to completion because she can become bored with it before it's implemented.
It's time to trust your heart and Transform Your Ideas Into Income.
I do a lot of reading online and lately I've noticed more and more people expressing their thoughts on "ideas".
Dan Zarrella, The Social Media Scientist, is quoted as saying …

"The concept that ideas spread simply because they're good is completely false. There are tons of good ideas that go nowhere, and even more bad ideas that spread like wildfire."

Then there's Alex Whalley's words of blog post "idea" wisdom …

"The salt is further rubbed into the 'too many ideas' wound because you will ultimately never have time to publish said post anyway, and it will sit in your drafts folder as nothing more than a title and an idea… for as long as you both shall live."

And Marnie Pehrson of Ideamarketers is asking …

"Have you experienced the exhilaration of a new idea only to have your zest for it wane as it came time to implement all the details to make it happen? Are you easily distracted from one idea to the next or have trouble deciding which idea to pursue?"
I'm the guiltiest party of all. 
I've been growing a pregnant idea for three years!
My first profession is in the field of perinatal education.  My idea is to bring my offline expertise onto the internet to share the wonderful world of pregnancy, birth, and infant care with parents-to-be.
My overdue pregnant idea is scheduled for "induction" soon.  🙂

Your turn to speak up …
Do you consider yourself an "inspired creative"?

What pregnant ideas have you been growing and haven't delivered yet?

What's holding you back from following your ideas through to completion?