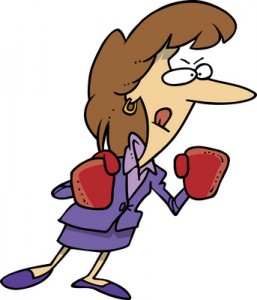 And no wonder!
I've lived under the same roof with twin daughters who have been HIGHLY competitive since they left the womb.
Try living with two 4.2 GPA students who get into heated discussions (okay, they're actually arguments) over the fact that one got a score of 103% on an exam and the other got 104%.  Sheesh!!  And the competition ensues with the very next exam and we're right back on the "Who's better/smarter" merry-go-round again.
And I'll spare you the sordid details of the "Who's more beautiful" competition.  That one gets REAL "ugly".
I hesitated registering them for different sports like softball and volleyball they wanted to play throughout their school years.  I probably don't have to tell you why.
The score sheets we were keeping had NOTHING to do with whether their teams won or lost a game.  You can just go ahead and use your imagination here.
So it's no revelation that I tend to shy away from competitions.  Just the thought of competing in something brings on a tension headache and ties my stomach in knots.
I prefer to view everyone as winners.  We're all good at something, right?
However …
There is such a thing as "healthy" competition that gives you the opportunity to stretch your mind, fine tune your skills, or move a bit out of your comfort zone.
I've entered just such a competition and as a fellow blogger, I think you should think about entering, too!
Check it out but you've got to hurry!  BLOG ENERGIZER
The deadline to submit your 5 blogging questions is TOMORROW – August 10th.
{mysig}