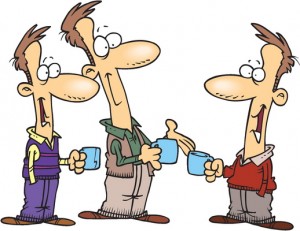 You might suspect this post is about …
Chunking down your bigger projects into smaller, more manageable bite-size tasks for better organization and to help you stay on track.
Or …
Having a smaller number of words in your blog posts than most other bloggers doesn't mean your message is any less powerful or has any less impact on your readers.
Or …
Instead of trying to accomplish some daunting, humongous goal – having a series of smaller goals leading up to that giant one is a more sensible approach.
But …
It's none of the above.
Although there are lots of ways smaller is better to build your business, I want to address the issue of creating a viable and lasting community online.
Every online marketer and small business owner wants to make BIG money by having a BIG list of subscribers, friends, and followers, right?  You hear it all the time – "The money is in the list!"
I'm all in favor of making big money (I didn't crawl out from under a cabbage leaf, ya know!), but I'm NOT in favor of "bigger is better" when it comes to building online relationships and creating community.
There's been a lot of discussion and some debate over this issue lately on some of the blogs I've been following.
Look, I don't profess to know everything about everything but I know this much …
What possible good does 1000's of Facebook friends do me, for example, when it's not humanly possible to have any kind of meaningful relationship with that many people?!
I would much prefer to have a smaller number of subscribers and social media contacts that actually have a genuine desire to get to know me and what I have to offer.
Do you think smaller is a better business building strategy?