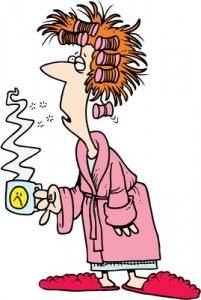 It's true.  Blogging is the nasty culprit.  I can't fall asleep at night because of blogging.
It's not even MY blog that's the problem — it's everyone else's!
And I'm going to name names because I'm DESPERATE for some sleep.
Alex Whalley kept me up till 3:00 A.M. on Tuesday (Well, by then, it was Wednesday).  He writes killer posts a mile long, he's got a quick wit I admire, and he's a genius at doing a play on words.  Just get your 'ask' over to his blog and you'll know what I'm talking about!
I'm convinced.  Theresa Bradley-Banta of BigFishTopDogs never sleeps.  Never.  She cranks out so much content, I can't keep up.  It's all good and I want to read it ALL.  You know the Lay's commercial that touts, "Bet ya can't eat just one?"  Bet ya can't make just ONE visit to Theresa's blog!
Then there's "Mr. Personality", Keith Davis, of espeaking. He's the guiltiest party of all.  He posts a comment on my blog.  I reply.  He comments back.  I reply again.  What's wrong with that man?  What does he think a blog is?  A conversation?!
I.  Need.  Some.  Sleep.
And I can't leave out Michelle Shaeffer.  I don't know if her blogging engine gets revved up after the sun goes down or she gets a second wind after midnight — can't figure it out.  But she ropes me in every time.  Michelle offers up (the likes of which you've never seen) loads of valuable resources and biz-building tips.  Her blog is a doggone magnet!
Ever heard of speedlinking?   Sheila Atwood is the quintessential pro!  But I'm warning you.  If you go over to her blog to see how she does it, you'll be hooked.  You won't want to miss those posts — even if you have to catch them in the middle of the night.  Don't say I didn't warn you.
I could name about fifty more bloggers, but you get the picture.  These people are the reason I'm suffering from sleep deprivation.
I know what you're thinking — it's not their fault.  Yes it is!
*Note* to everyone whose blog I frequent and you know who you are (if you want to cure my insomnia) …
Can you lay low for a while?
Take a vacation, maybe?
Go out on your patio and read a book?
Try Vlogging for a change?
Loan your computer to a starving student?
NO?
Well, how about a compromise?
I'm begging you.
For a while (so I can catch up on my sleep), write SHORTER posts, would ya?!
Anyone else out there glued to your chair reading blog posts at the (butt) crack of dawn?