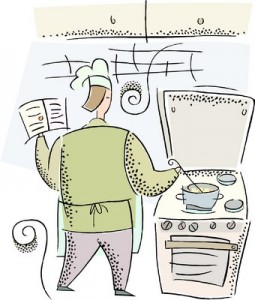 Ever consider that feeding your blog is just as important as feeding your pets?
My two dogs wouldn't be vibrant, strong, and full of energy if I neglected to feed them.  And since they can't feed themselves, they HAVE to depend on me.  It's my responsibility and a necessary part of my daily routine.  Because I love them and I want them to thrive, I can't forget to feed them.
Blogs need to be fed, too!
And even though you can't feed your blog "actual" food, you can still provide it with the essential nutrients it needs to stay healthy.
By the way, don't forget to feed yourself during the day or you won't have enough energy to feed your blog!  My good friend and blogging buddy, Jane Lee, wrote a quick commentary on "Taking Time Out" for nourishment.  Jane knows that she can become very lethargic and unable to focus on her work if she forgets to eat.
Does that happen to you sometimes?
And your blog will get really sluggish, too, if you don't feed it.
Use the following ingredients to cook up the very best Blog Food:
Creative and compelling titles

Fun and interesting graphics

Lots of white space

Unique content that educates, engages, enriches, and entertains

A call to action
Be sure to feed your blog at least twice a week!  To find out more about some delicious and nutritious blog food, check out this FREE Five-Part Video Course, "Get the Best out of Your Blog".
What are you going to feed your blog today?