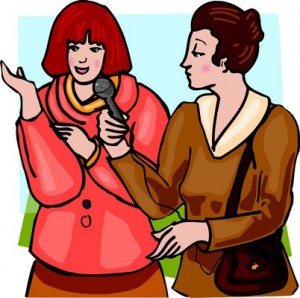 Today's post is going to be a little different.
Recently, the good folks at BlogEnergizer.com offered to write any blog an exclusive interview so I said "Yes".
My challenge was to come up with five interesting, attention-grabbing blogging questions.
And you know me!  I set out to come up with interview questions that I was sure no one else would ask.  Who wants dry and boring, right?!

So here are my five blogging questions and the responses from Lynette Chandler, team leader of Blog Energizer:

Question 1:

Let's pretend for a moment that there are very stringent rules to abide by in the blogosphere. If you were permitted to become a loyal follower of just ONE blog, whose blog would you choose and why?
I would choose Contentrix or whatever is Alice Seba's current project because she and I friends? 😉 no, that's not why. I would still choose to follow her blog because she often has such great ideas and manages to pull it off in an unassuming, effortless and no pressure manner. She's also very good at selling using her content. A skill I've been learning to do and continue to develop with her guidance.
Question 2:

The pressure is on! You've entered an exciting blogging competition and there's a tie between you and one other dynamo participant. The best answer to the following question will determine the winner. How would you answer, "Who are the better bloggers — Men or Women?"
Wow you're trying to start war here. What a tight spot! You know I have to be partial and say women.
Were you looking for an explanation? 😉
Question 3:

You've been given a multiple choice test to gauge your expert knowledge of blogging. Are you going to select A, B, or C to the following question and why?
The BEST SEO strategy for blogging is:
A) Keyword research
B) Latent semantic indexing C) High quality back links
What? No all of the above? Hmm I'm going to choose C but I've never been good at SEO anyhow. Don't follow me for SEO information. That's for sure but if you want blogging ideas, me, me me please 🙂

Question 4: In the arena of business blogging, we all know that stories sell, right? What story have you told on your blog that captured the attention of your target audience and immediately motivated them to make a purchase?
You know this is the one thing that I struggle with the most because of the topic of my flagship blogs they are very geeky. Notice I didn't say technical because I do have some light posts in there but I know most of the time people are reading because they are looking for a technical solution or advise or tip. Not so much 'soft' information.
I do use stories in the format of case studies, for example, after spending hours figuring out a problem I would use the story/case study format to lead people to a solution or product. The 'softer' more lifestyle type stories would sometimes be put in emails rather than the blog. This way I keep my blog on topic. Once in a blue moon they do find their way onto the blog though.
Question 5:

If you were stranded on an island (temporarily, of course – help is on the way), who's the emergency blogging buddy you would trust in your absence to add fresh original content to your blog? (You did note someone on your emergency form, right?) 🙂
Uhm… what emergency blogging information? Ok, ok, if I have to choose, I'd have Kit Singleton who is also a member of the BlogEnergizer team I must add. Because she and I are kinda zany together, we also complete each others' sentences very often which means we have that telepathic connection going on and that would be really handy when stranded on an island.
For those of you who head on over to Blog Energizer and give my interview questions a thumbs up — Thank You!

{mysig}