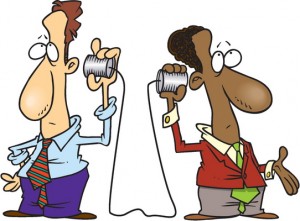 To tap into the needs of your target audience and ramp up your marketing results …
Communication is the key.
Of course, there are many ways to "talk" to your prospects, clients, and customers.

Are you aware of how your target audience prefers to communicate?
Figuring that out is the cherry on the ice cream sundae!
Your audience may prefer to communicate with you by:
Email

Phone Call

Text Messaging

Hard Copy Newsletter

Social Media

Video


Podcast

Ezine

Direct Response Mail
A "best practice" for marketing your products or services is "Test Before Invest" – and that could mean an investment of either time or money or both.
Before you spend your marketing dollars on a postcard campaign, for example, you need to make sure people want to receive communications from you in their mailbox at home.
Before you decide that social media is the best way to communicate, you need to know if your audience is hanging out on Twitter, Facebook, or any of the other social media venues.  If not, you'll be wasting valuable marketing minutes with no return on your investment.
So how do you find out how your target audience prefers to receive communications from you?
It's simple.  Ask them.
Send your audience a survey!
Most survey/poll sites online are free to use and very easy to navigate.
Read this blog post from my good friend, Fiona McEachran of Abnormal Marketing: Easy Market Research With 12 Great Poll Sites
Fiona covers a lot of territory on this subject and offers you lots of great resources.  You can also choose to listen to her post – just scroll down to the bottom and look for the ipadio box.
Have you figured out your target audience's favorite means of communication?