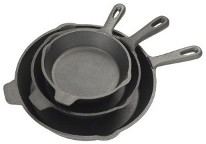 Nothing spells disaster faster than not having the right tools to market your business – especially if you are trying to market on a shoestring budget.
This is a sequel to a recent post on the Solo Mompreneur blog entitled, "What's Your Business Building Cast Iron Skillet?"
I'm writing this because Bobbye, Martha, and Heather asked. 🙂 These are three exceptionally talented bloggers and small business owners I met through joining a 30-day blogging challenge.  (Be sure to click their names and check out their amazing talents!)
These three lovely ladies asked me to share the tools I use to market my business – my "Cast Iron Skillets".
So here's what I use to cook up some tasty marketing messages and spread the word about my business:
Free Headline Analyzer: I love this tool and consider it a must-have.  It measures the "emotional marketing value" of your words.  It's great for crafting blog post titles, landing page & sales page bullet points, and article headlines.  And it's fun to use!

Social Oomph: This is the best time-saving tool in my arsenal.  I use it to preschedule Twitter updates – a day or two or three in advance!  So when I am away from my computer or working on other projects, my Tweets will automatically show up in my Twitter stream at specified times throughout the day.
Ping.fm: With one click of my mouse, I can send out a post/message to ALL of my networks at once!  I'm currently subscribed to 15 different networks.  It's another time-saver and a real convenience.
Survey Monkey: I really like this free easy-to-navigate platform for creating surveys and polls.  Google Docs are also a great choice.
Audio Acrobat: I have lots of fun recording Audio Notes here to send out to my list, publish in my ezine, or post on social networking sites.  They have some really cool templates, too.
My Marketing Cornerstone: This is a series of OUTSTANDING webinars and accompanying workbooks created by my mentor and colleague, Jessica Swanson.  I return to this information again and again!!  This $97 bootcamp took me from ZERO success to targeted subscribers and sales!
To search for other bloggers in my niche and to keep up-to-date on what people in my niche are talking about, I use:
1) Icerocket
2) Blogpulse
3) Technorati
So there you have it – My business building Cast Iron Skillets!
{mysig}