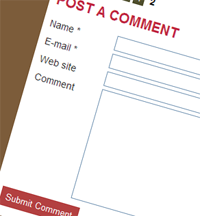 Everyone appreciates a compliment, right?  I call them "strokes".
We all could use a few strokes once in a while, especially when we've poured our hearts and souls into something we've written.
Ask any article marketer, author, or avid blogger – we love to get feedback from our readers, especially when they say something positive and complimentary.
Think back to how many times you visit someone's blog, scroll down to the comments area, and what do you see?
There it is – that infamous and over-used comment:  "Great Post!"
Maybe the reader really enjoyed the post.  And that's terrific! But "why" was it great and "what" resonated with the commenter?
In some instances, I suspect the commenter may not have even read the post and is just looking to create some backlinks. Not a good idea and certainly not very thoughtful or professional behavior.
I wrote an article for Natural Baby Pros entitled, "Do's And Don'ts Of Posting Blog Comments". It's brief and to the point and I think you'll enjoy reading some worthwhile guidelines for getting the most mileage out of the blog comments you post!
Oh, and if you actually got this far …
How about leaving your mark in the comment box below?
I read and respond to EVERY one of them!
{mysig}