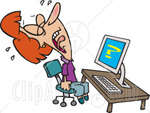 You bet it does!  And that's a really good thing.  Problems are a "good" thing?  Yes.  And the more problems, the better.
Now don't run away just yet.  Stick with me and let me explain.  I promise you'll be glad you have lots of problems.
I don't blame you if you're thinking you just bumped into the craziest person on the internet.  That's okay.  I've been called worse things than that.
Stop for a moment and ask yourself this question …
Is it really a program, product, or service you're offering your prospects, clients, or customers?  I hope not.
Maybe you're selling a miracle wrinkle cream or fresh-baked bread or tax consultations for small business owners.  Or you might teach a cycling class or train dogs how to stay off the furniture. You may even be a tour guide or a home decorator or a childbirth educator.  That's great!  But I've got a big secret to tell you.  You're not really selling ANY of those things! You're selling "solutions" to problems.
For example …
Someone who's selling wrinkle cream isn't really selling a skin care product.  They're selling a "solution" for looking younger and more vibrant.  If someone owns a dog that won't stay off the couch, they're looking for a "solution".
If you think in terms of what problems you can solve for the target market you serve, you've got the foundation for a very successful business. Instead of focusing on products and programs, focus on ways to alleviate people's pain, worry, and frustration.

Keep looking for more problems!
{mysig}