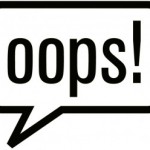 Either there's a whole lot of really brilliant online marketers who are exhausted, overworked, careless, or suffering from a bad case of absentmindedness …
OR …
"Oops!" is a new marketing strategy and no one invited me to a webinar to learn about it!  Didn't get an invitation to an Oops teleseminar, haven't seen anyone Tweeting about it, and I haven't seen one mention in any of the ezines I read.

Do you think some exclusive and secretive Oops group is purposely leaving me out of the loop?  I've got my suspicions and I'm beginning to wonder because …
Rarely does a day go by that I don't find one of the following in an email subject line:
Oops! I sent the wrong link

Oops! You missed the deadline

Oops! I forgot to mention

Oops! I'm sorry you couldn't attend

Oops! I should have sent this yesterday

Oops! Looks like you missed this

Oops! The call has been rescheduled

Oops! The early bird discount expired

Oops! Here's the corrected link

Oops! I didn't mean to do that
Is it just me?  Or are you getting "Oops!'d", too?
All kidding aside, I know sometimes we just get in a hurry and make a mistake.
My advice?
Stop "Oops"-ing your list and start embracing Slow Marketing.