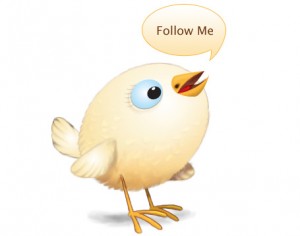 Today's post is a sequel to "Twitter update – What Are You Cooking for Dinner Tonight?"
Consistent and Clear messaging across social media venues is what you want to aim for in your communications with your target audience.
Nothing breaks down trust and destroys credibility faster than being all over the map with messages that confuse your target market.  And once they get confused, they disappear!
To keep your prospects, clients, and customers from doing the disappearing act, you need to strike a "balance" of sharing relationship-building messages and messages that are promotional in nature.
Be a savvy social media marketer and use the 80/20 rule (or even the 90/10 rule!) when posting your messages.  The majority of what you share should be focused on relationship-building.
Thanks to my awesome mentor and colleague, Jessica Swanson, I've learned buckets full of tips and strategies to build lasting relationships with mompreneurs and moms who want to ditch the 9-5 and work from home.
Now it's my turn to share them with you.
The best way to begin building a relationship with your target audience is to offer them your tantalizing freebie!
Here are 50 "free offer" ideas from my mentor to me to YOU:
1)  Ebook
2)  Tip booklet
3)  Special report
4)  Mini ecourse (delivered over time)
5)  Industry report
6)  Sample chapter of your book
7)  How-to guide
8)  Cheat sheet
9)  Tip sheet
10) Checklist
11) White paper
12) Warning or cautionary report
13) Ezine subscription
14) Downloadable kit
15) Written interview (transcribed)
16) Buyer's guide
17) Template
18) Quiz
19) Survey
20) Audio class/lesson
21) Audio course (delivered over time)
22) Audio interview
23) Live teleseminar
24) Recorded teleseminar
25) Podcast episode
26) Video
27) Video course (delivered over time)
28) Slideshow
29) Live webinar
30) Live webcast
31) Recorded webinar
32) DVD
33) CD
34) Product sample
35) Demonstration of your product
36) Consultation
37) Free trial offer
38) Discount coupon book
39) WordPress plugin
40) Mobile application
41) Free mystery gift
42) Free "set-up" or "assembly"
43) Free hotline service
44) Free customer support
45) Pamphlet
46) Brochure
47) Informational packet
48) Free class or lesson
49) Free seminar
50) You fill in the blank here – use your imagination!
Next you'll want to grab 50 Tweetable ideas tailor-made for the small business owner and entrepreneur:
1)    Share a relevant quote from your industry.
2)    Link to your blog post.
3)    Link to someone else's blog post.
4)    Share a link to a video at:  www.TwitVid.com
5)    Share industry tips.
6)    Ask questions.
7)    Answer questions.
8)    Share a cool, new tool that you just discovered.
9)    Start a new # discussion within your industry.
10)    Join a # discussion within your industry.
11)    Re-tweet relevant tweets that your followers will enjoy.
12)    Share a picture at: www.TwitPic.com
13)    Link to one of your published articles.
14)    Link to someone else's published article.
15)    Share a link to one of your recent press releases.
16)    Post updates while attending a conference.
17)    Share a link to your podcast.
18)    Let your followers know about an upcoming interview.
19)    Brag about your favorite clients and customers.
20)    Ask for help solving a problem.
21)    Share a link to your online radio show.
22)    Create informal mastermind groups at: http://grouptweet.com
23)    Generate quick polls at: www.TweetPoll.com
24)    Give away free stuff (ebooks, reports, audios, etc.)
25)    Review a product pertinent to your industry.
26)    Review a book relevant to your industry.
27)    Set up a #TweetUp to meet your twitter friends in-person.
28)    Offer great customer service.
29)    Find Joint Venture partners.
30)    Brag about a job well done by another company or individual.
31)    Provide your expert opinion.
32)    Tweet out your eZine.
33)    Promote your live event.
34)    Promote your virtual event www.Tweetvite.com
35)    Showcase your work.
36)    Promote your new product or ebook.
37)    Host a contest.
38)    Build relationships with bloggers.
39)    Build relationships with PR people.
40)    Share a link to your Hubpage: www.Hubpages.com
41)    Share a link to your Squidoo lens: www.Squidoo.com
42)    Announce the upcoming launch of a new product or service.
43)    Redistribute content.
44)    Share a link to a powerpoint presentation on     www.SlideShare.com
45)    Take questions from the audience whenever you participate in a teleseminar or conference.
46)    Form a group for your customers and clients at: http://grouptweet.com
47)     Tell an industry joke.
48)    Rant about something not done well in your industry.
49)    Solve a problem that your target market is facing.
50)   You get to fill in the blank here – use your imagination!
Could you benefit from more information like this? If so, begin by downloading your Free Shoestring Marketing Kit.