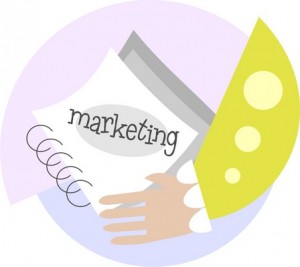 "I don't like marketing" or "Marketing is too hard" is the mindset of many small business owners, especially those just starting out.
That's a shame because marketing needs to be at the top of your priority list every day.  If you don't plan on devoting the majority of your time to marketing your products or services, you may as well fold up your tent and leave camp!
Most of the time, a negative attitude toward marketing stems from misconceptions and a misunderstanding of the difference between advertising and marketing.
Let's run through just seven (there are many more!) false impressions of marketing your business online:
1)  Marketing is a big bother and an interruption to
people.

Actually, that statement pertains to "advertising", NOT marketing.
Television advertisements are bothersome, for example, because they
interrupt the viewing of a program.  I haven't met anyone yet who's said, "I
love T.V. commercials!"  Marketing is not a blatant "in your face" method of
making sales.  Marketing is a much softer and palatable business-building
tool.
2)  People won't be interested in what I have to offer.



In other words, "People won't buy what I'm selling".  Not true.  If you've
taken the time to study the demographics of your target audience and
you've done some thorough keyword research, then you can market
confidently knowing there's a flock of potential clients or customers that
want what you have to offer.  Marketing is about establishing and nurturing
relationships with your prospects through a crystal clear understanding of
their problems and the solutions you offer.
3)  It probably won't work anyway, so why bother?
Oh, brother.  I've heard this one more times than I care to count. 
Developing the right kind of "marketing mindset" matters.  Giving up before
you even try is a one-way ticket to failure.  If you maintain a defeatist
attitude, your business will not thrive.  The only way to get past this type of
thinking is to dig your heels in and take some action!  You need to "test" a
marketing strategy or platform first, give it a fair amount of time, and see if
it's working for you.  
4)  Marketing is way too expensive.
Rubbish!  Advertising can empty your wallet pretty quickly, but marketing
can easily be done effectively on a tight budget.  The majority of the
successful marketing strategies I use cost $0.  So even if you're on a super
slim budget, don't sweat it. There are literally hundreds of free marketing
platforms.  Want to learn more about marketing on a zero-dollar budget?
Download a Free Shoestring Marketing Kit

.
5)  Only business owners with sub-standard products or services need
marketing.
Ouch!! I always want to fall off my chair when I hear someone say this and
I'll never understand the origin of this misconception.  In fact, EVERY solo
professional needs to market their business. Once again, marketing needs
to be your highest priority.  Without marketing, don't expect sales … period.
6)  Marketing leads straight to rejection.
Wrong.  "Selling" can lead to rejection.  No one likes to sell or be sold. 
Marketing, on the other hand, is a means of avoiding rejection.  Once
people get to know you better through your marketing, they'll begin to like
you and, ultimately, trust you.  Then and only then will they feel
comfortable enough to make a purchase.  Remember that your primary
marketing goal is to build relationships with your prospects.
7)  I'm a lousy writer.  No one will want to read my
writing.
I'm going to ask you to trust me here.  You don't need to be Ernest
Hemmingway to market your products and services online.  You need to
be YOU!  Whether you are crafting blog posts, articles, e-books, reports, or
sales pages – your writing will resonate with people if you use your
authentic voice.  But if you absolutely hate to write or you don't really "get"
what being your authentic self in writing is all about – my friend and
colleague, Lisbeth Tanz, (corporate sales and marketing escapee!) can get
you on track and up to speed in just one weekend.  Look her up and check
out her

 

Savvy Article Marketing Success Weekend.  Lisbeth offers a
simple, yet effective process to get business owners in action writing about
what they know best – their industry and business.

Just push these false impressions aside and get ready to love marketing!
{mysig}