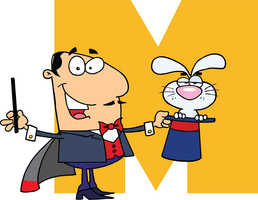 Marketing your business online is magical! (It's true – not being corny here.)

And it can be a lot of fun as long as you don't get yourself bogged down by having too many marketing irons in the fire at once.  Keep it super simple and use the tools and resources that resonate with your marketing style.
Many entrepreneurs, service professionals, and small business owners don't see or understand the magical side of marketing.
That's because the only trick they've mastered is the "disappearing act"!
How many of your fellow blogging buddies and social media friends have remarked, "No one knows my website exists"?  Or how about, "No one is reading or commenting on my blog posts"?
In other words, they feel as if they're trying to communicate with an invisible audience.
All it takes to turn these scenarios around is a little marketing magic. So allow me to suit up in my top hat and cape and grab my magic wand.
It's time to show you a couple of tricks!
Magic Trick #1 – Appearing Act
Most magicians focus on "invisibility" but this 2-step trick will help you get "visibility" online:
Every time you publish a new blog post or guest post, ping your masterpiece out to Pingomatic and Pingmyblog. Both of these services are Free, include submissions to tons of blog directories, and the whole process should take you just a couple of minutes.
Magic Trick #2 – Show Us Your Stuff
A poke in the rib of search engines can work like magic – But you've got to show the search engines your stuff!
At least twice a month, submit your sites to Free Website Submitter.  Just don't blink your eyes after you hit the submit button or you'll miss the whole show.  This is some real speedy magic!
Magic Trick #3 – Poof! Be Everywhere In One Click
Register your social networks at Hootsuite for some time-saving and step-saving marketing magic!
Have any magic marketing tricks you'd like to share?